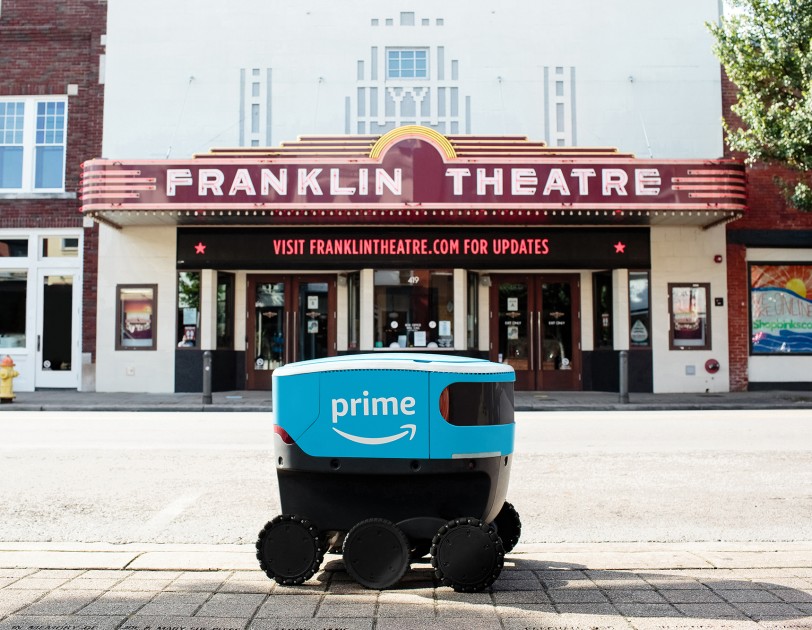 Amazon's electric, autonomous Scout package delivery robots are being trialled in Atlanta, Georgia and Franklin, Tennessee – although they'll be accompanied by a human for now.
The devices, which are "the size of a small cooler", have been operating in Snohomish County, Washington and Irvine, California since last year, and have continued to run during the pandemic, with Amazon saying they supplemented its transportation network to meet increased customer demand.
The field test is now expanding to Atlanta and Franklin, giving Amazon the chance to try out the Scout devices in different types of neighbourhoods. They are also areas where Amazon has corporate offices and logistics facilities.
The company says its Scout vehicles are "built to be inherently safe" and move at a walking pace. Each delivery device can navigate around people, pets and other objects in its path.
"We are starting with a small number of Amazon Scout devices in each city, delivering Monday through Friday, during daylight hours," said Sean Scott, vice president of Amazon Scout. "Customers in both areas will order just as they normally would, and their Amazon packages will be delivered either by one of our trusted carrier partners or by Amazon Scout."
"Expanding our field test to Atlanta and Franklin is one of the many steps forward for this new delivery system and on our path to net-zero carbon by 2040," he added.
The robots will autonomously follow their delivery route but will be accompanied by an "Amazon Scout Ambassador" member of staff.
Starting small
Eric Stuckey, City Administrator, Franklin, told Cities Today that the trial only came about a few days ago when Amazon got in touch. The pilot will run on two large streets in one neighbourhood of the city and the vehicles will travel mainly on sidewalks.
"This type of technology and ways to deliver goods and services that don't put vehicles on the road are going to be something we all need to look at going forward," he said. "Getting some experience with it could benefit us and benefit Amazon, and ultimately benefit the community."
There is no fixed duration for the trial in Franklin, which has a population of around 80,000, but it is "short term" for now and the city will be in regular contact with Amazon, Stuckey said, adding that the pilot will allow the city to "go to school" and learn what regulations might work best if the system were to be scaled up to broader areas which involve more interfaces with the public and traffic.
He commented: "We're going to see more different types of applications like this come forward because people are more comfortable with delivery and, of course, the COVID-19 pandemic contributes to people relying on these types of services more and more in their daily lives."
Amazon said it also plans to partner with local schools near the areas where it operates in Atlanta and Franklin to support STEM and robotics activities.
Milton Keynes in the UK is another example of a city where delivery robots operate. The Starship devices have been running there since April 2018 and in March this year were extended to the city centre.