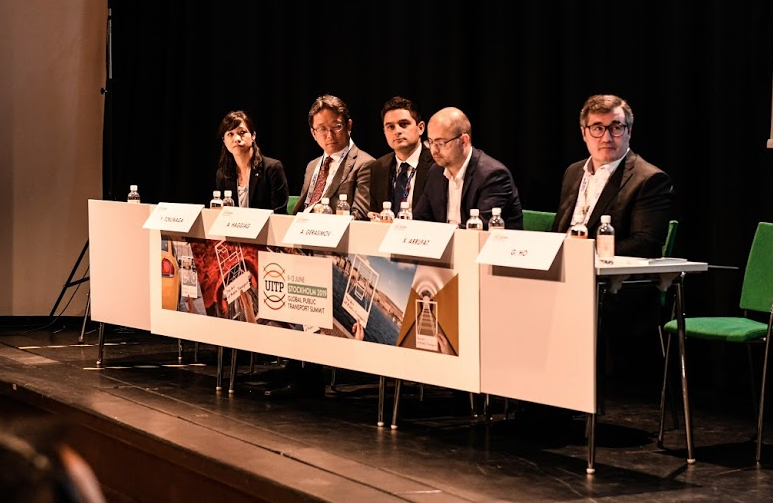 Photo: Screenshot-2019-06-13-at-13.02.32
Artificial intelligence can help tackle fare evasion
13 June 2019
by Jonathan Andrews
Barcelona has begun using artificial intelligence (AI) at train stations to target fare evaders without inconveniencing honest passengers.
The system has been rolled out at select stations of the Catalan government's Ferrocarrils de la Generalitat de Catalunya (FGC) train network with Xavier Arrufat, Founder & Chief Executive Officer of Awaait Artificial Intelligence, emphasising that fare evasion is one of the biggest challenges in public transport, given "it is how the industry gets paid for transporting people".
During a session at the UITP Global Public Transport Summit in Stockholm on AI and IoT, Arrufat explained that FGC, the train operator, had come to him to look for a solution to improve the efficiency of revenue inspectors.
"The problem is that the vast majority of people pay, so we are unnecessarily bothering them by asking them to show their ticket, and undertaking these inspections during rush hour," he said.
The company began to explore solutions that had to be fast, undertaken in real time, and easy to use for ticket controllers. The solution was a combination of existing infrastructure and a new AI-based mobile application for inspectors.
A camera is installed that overlooks the ticket barrier and is connected to the hardware. An inspector, located further inside the station, is sent an alert that features the fare evader's image. The inspector is then in a position to stop him or her "before they reach the platform".
"The other benefit of an AI-based solution is that you get all the data, so you can see the statistics and make your tactics to combat fare evasion easier and more effective," added Arrufat.
As the system is more selective, an operator need only have teams of two or three people at each station, allowing more stations to be covered.
"If you are a user that is paying, the one thing that bothers you is to get out your wallet, your ticket, or your mobile and keep showing it," he said. "The system allows the vast majority that pay not to be bothered when they are walking through a transit station."
As well as Barcelona, pilots are scheduled to take place in three other European cities and one in the US.
A UITP survey has revealed that more than 62 percent of the industry is using or trialling AI.
Gayang Ho, Leader for Research and Policy Development, at UITP's Asia Pacific Office in Hong Kong, said that while this is significant, the sector is still slow to adopt the technology with many of those surveyed only beginning to use and test AI in the last five years.
"AI has been helping improve public transport operations where there are already trials using machine learning and neuro networks to map prediction and disruption," she said. "It allows us to better meet the needs of our mobility services and the needs of our customer."
She highlighted the examples of Japan Railways and Transport for London, which are trialling AI for track inspections and which in the future could remove the necessity of "boots on the track" and increase safety.
Ho added that one key ingredient for AI to work effectively is the need for high-quality data as "without it you don't have a good AI system and that could result in very bad decisions."
While the survey has provided Ho with useful insights, there still remain hurdles to the wider adoption of AI.
"The technology is quite simple; it is the culture of organisations and regulatory and policy frameworks that are the biggest barriers," she observed. "We aren't advocating to deploy AI but it is here and we think you should be ready."