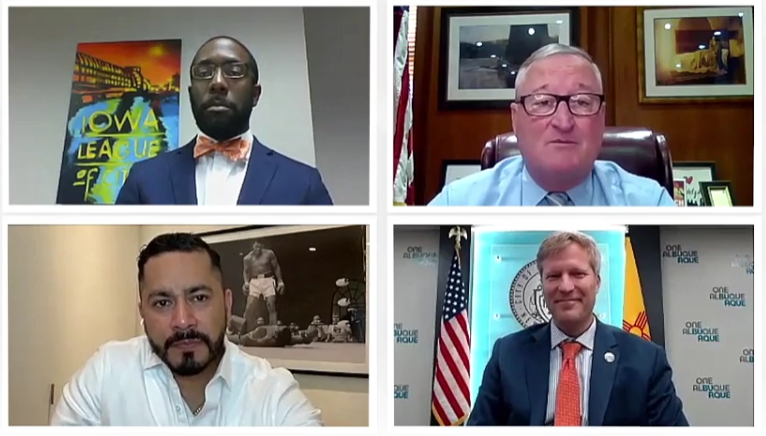 Albuquerque creates new safety department to change how police are dispatched
14 July 2021
by Sarah Wray
On a recent webinar organised by Ignite Cities and the National League of Cities, mayors from Philadelphia, Albuquerque and Waterloo discussed how they are approaching the complexities of managing public safety and a surge in gun violence while responding to calls to reform policing following the murder of George Floyd.
Albuquerque in New Mexico is setting up a third department of first responders with a new Community Safety team that will work alongside the police and fire crews.
The cabinet-level department which has recurring funding allocated will launch this autumn. It will be staffed by 100 trained professionals such as emergency medical technicians, social workers, housing and homelessness specialists, and violence prevention experts. Dispatchers will have the option to choose a community safety response when it is more appropriate than a paramedic, fire-fighter, or armed police officer.
Mayor Tim Keller said: "When officers show up, we know statistically that the likelihood of that escalating, for whatever reason, is very high. We're trying to avoid that."
He admitted: "We're a little anxious, we don't know if it's going to work," but he pointed to the systemic, structural nature of the initiative.
"This is not a pilot programme," Keller said. "This is in our 911 system; we are trying to build it into the fabric of who we are as a city. It is real."
As part of a public safety and police reform programme, Philadelphia is launching a new Triage and Co-responder programme which pairs a crisis intervention team police officer with a behavioural health clinician for certain 911 calls. A new triage desk aims to better identify and respond to behavioural health crisis calls to 911 and from patrol officers.
Quentin Hart, Mayor of the City of Waterloo, Iowa, who moderated the session, commented: "We have to take a holistic approach to be able to change the way that we do public safety."
His city has received a state grant to send out mental health counsellors on some 911 calls.
"If your municipality is large or small, it makes a difference when we can think outside of the box and create holistic models to be able to really deal with the needs that our communities are facing every day," Hart said.
Data and technology
As part of this holistic approach, the mayors said that technology has a role to play in public safety.
Many of Philadelphia's in-person gun violence reduction outreach initiatives had to be paused during the pandemic but, facing an acute gun crisis, the city was recently included in President Biden's Community Violence Intervention Collaborative. Local officials from 15 cities, including Los Angeles, Atlanta, Baltimore and Washington, will meet regularly to share best practices and provide training or technical assistance.
Mayor Jim Kenney described how Philadelphia's Operation Pinpoint uses data to identify crime hotspots so police can be best placed. The city also uses tools to monitor social media to identify where crime could happen and assign officers.
"We get some ideas as to what's actually cooking out there, what trouble may be brewing," he said.
However, he noted: "Advanced technology is very expensive. And you have to make sure you select the right technology because if you go down a road, once you get halfway down that road, you are stuck [either] finishing it or starting over."
The city opts for off-the-shelf options where possible, the mayor said.
George Burciaga, Managing Partner, Ignite Cities, urged cities to consider new infrastructure-based public safety solutions.
Burciaga said: "We want to make sure that if I'm on a street corner and there's a gunshot, the bus stops moving in that direction, folks are alerted, the light gets brighter, data is collected, the police are dispatched.
"In fact, we're doing that in about nine different cities across the country as we speak, and finding efficient ways to fund it [at no cost to the city]."
As equity and fairness have come to the fore, this also applies to the way technology is deployed. Albuquerque is exploring the idea of implementing automated speeding tickets via cameras and this initiative is being run through the city's equity and inclusion department to ensure the right policies would be in place to prevent communities being "over-policed or over-monitored".
"We're trying to connect equitable policies with operations," Keller said.
Replay the event: