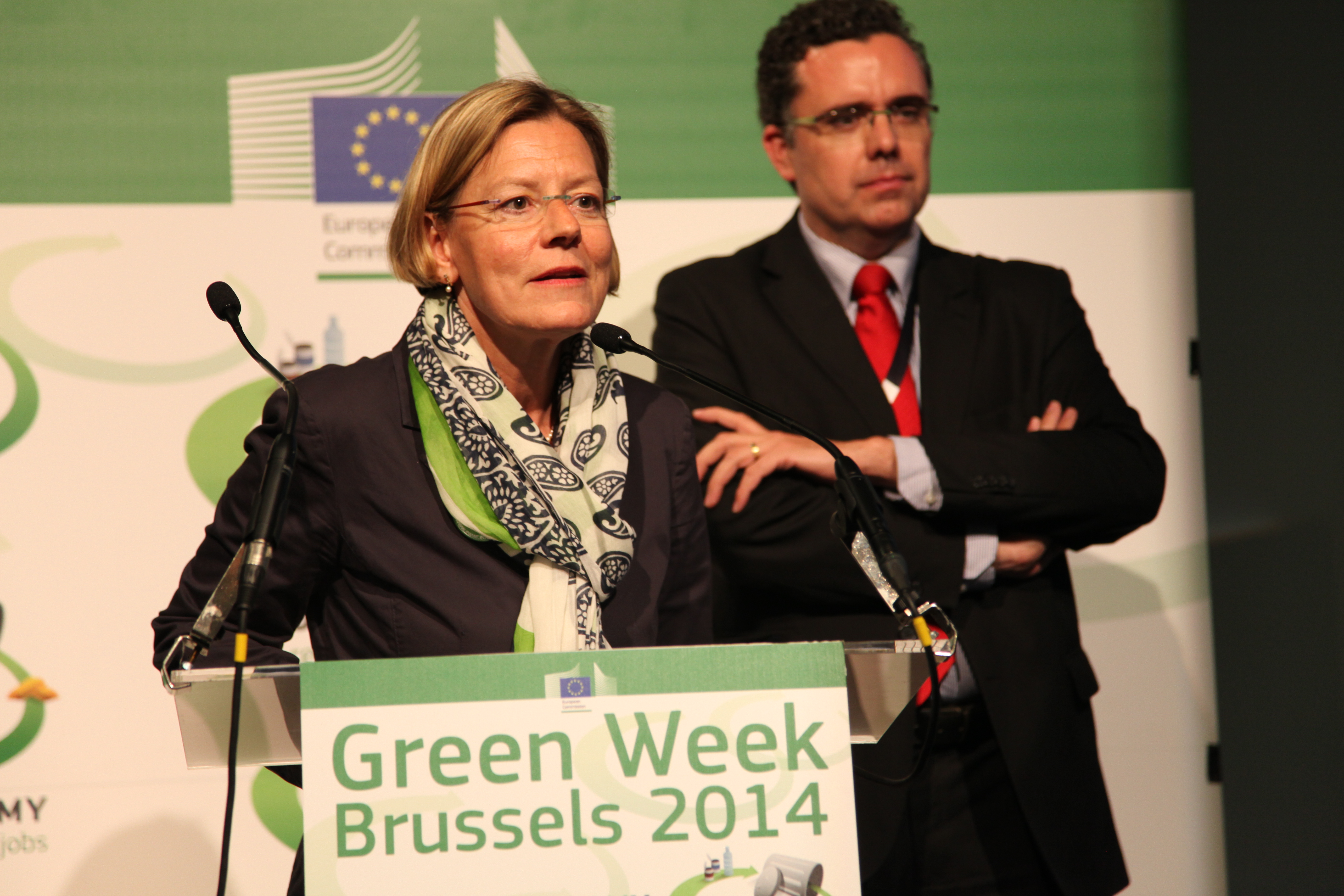 Françoise Bonnet joined ACR+, the Association of Cities and Regions for Recycling and Sustainable Resource Management, in 2013 after spells in the Brussels regional administration, the United Nations and in the private sector. When she arrived, ACR+ had just three staff members. Now, it has more than 10.
What is the ACR+ vision for the circular economy?
The circular economy was foreseen with material resources as the entry door. Now, it's clear that we need to connect all policies. Circular economy is translated to the energy sector with renewable energy, in the water sector with reusable water and in material resources in re-use, repair and recycling. And of course when you produce a product you need energy and water so it is linked.
It is not only about cost efficiency. We are trying to deliver a system change not a system optimisation. We need to change our economy and our consumer and producer patterns.
Public authorities are in the middle. You have the producer's vision and the consumer's interest and you need to balance both. Because, of course, you have local jobs in your territory thanks to producers and you need to serve the public interest of your citizens, who are also consumers. You have to have a comprehensive vision of what you want on your territory.
Public authorities have a lot of tools. They can work on taxes, they can work on subisidies, they can work on selective collection, they can work on public procurement–and public procurement is key because you can promote green products.
We are convinced that digitalisation and new business models will be a key to the future because we would like to develop more product service systems. You don't need to own everything you can buy as services and use less raw materials.
And a key element for us: when you can do it locally, do it locally. All the things you can produce locally, like urban agriculture for example, you have less environmental impact, you create local jobs and you create communities.
What role does the private sector play?
When you have the circular economy, you are dealing with the economy, so more and more you will need to enter into public-private partnerships.
This is especially true with products. Because producers need to be responsible for their products until the end of their lifetime but you cannot ask them to be responsible without collaboration with public authorities.
In the future cities will not earn money by being waste managers. More and more they will manage only the residual fraction. Because if we reach what we want–meaning that waste is a resource–producers will want to get back their materials and won't want to give them to municipalities.
Municipalities will keep the residual waste. Of course, residual waste needs to be managed and it's better to have a waste-to-energy plan than just to burn waste or send it to landfill.
But you have to be careful about your waste-to-energy infrastructure. Don't make it too big or you will have less incentive to recycle as you will keep needing to feed the beast.
How do cities reach out to the private sector?
Public procurement is certainly an important tool. It's nearly 20 percent of the European GDP so you can level certain markets. If, for example, you use a smart car you are buying green but also providing an example to your citizens.
Local authorities give permits to local enterprises. They normally state in the permit what is allowed and what is not allowed. If you want to have greener production, you can put this in your permits.
You can also use incubators and subsidies to encourage new business models. We must never forget that Silicon Valley was born with public money.
Ecodesign is key. Usually local and regional administrations do not have the ability to directly impose legislation for ecodesign but they can promote certain products and ecodesign. We have members that have regional awards for ecodesign. The prize might be the public body buying the product or helping promote it in some other way.
And certain authorities can work on ecodesign legislation directly.
Can you outline some of your members' most important projects?
Regarding waste management: about five years ago, the little city of Besançon in France had to do some maintenance work on its incineration plant. They didn't want to spend much money so they decided that instead of doing the maintenance, they used the money to implement a prevention and recycling strategy. In three years, they reached the objective of decreasing the amount of residual waste to be treated.
Paris and Brussels have taken political decisions to draft and implement a circular economy strategy. In Brussels, for example, they did a strong analysis of their urban metabolism. What are the inputs and the outputs on a city level, where could they improve and create jobs.
They combined the ministry of economy and the ministry of environmental affairs in order to draft this regional strategy. And now they are implementing it together. It is quite rare to have two strong ministries working together. In terms of governments, this is a good example.
When the region of Flanders had to incorporate the waste framework directive into its own legislation, they decided to talk about 'material' legislation and not anymore 'waste' legislation. They started to think about how to boost certain raw materials and how to save materials. It was really a fundamental change of mindset.