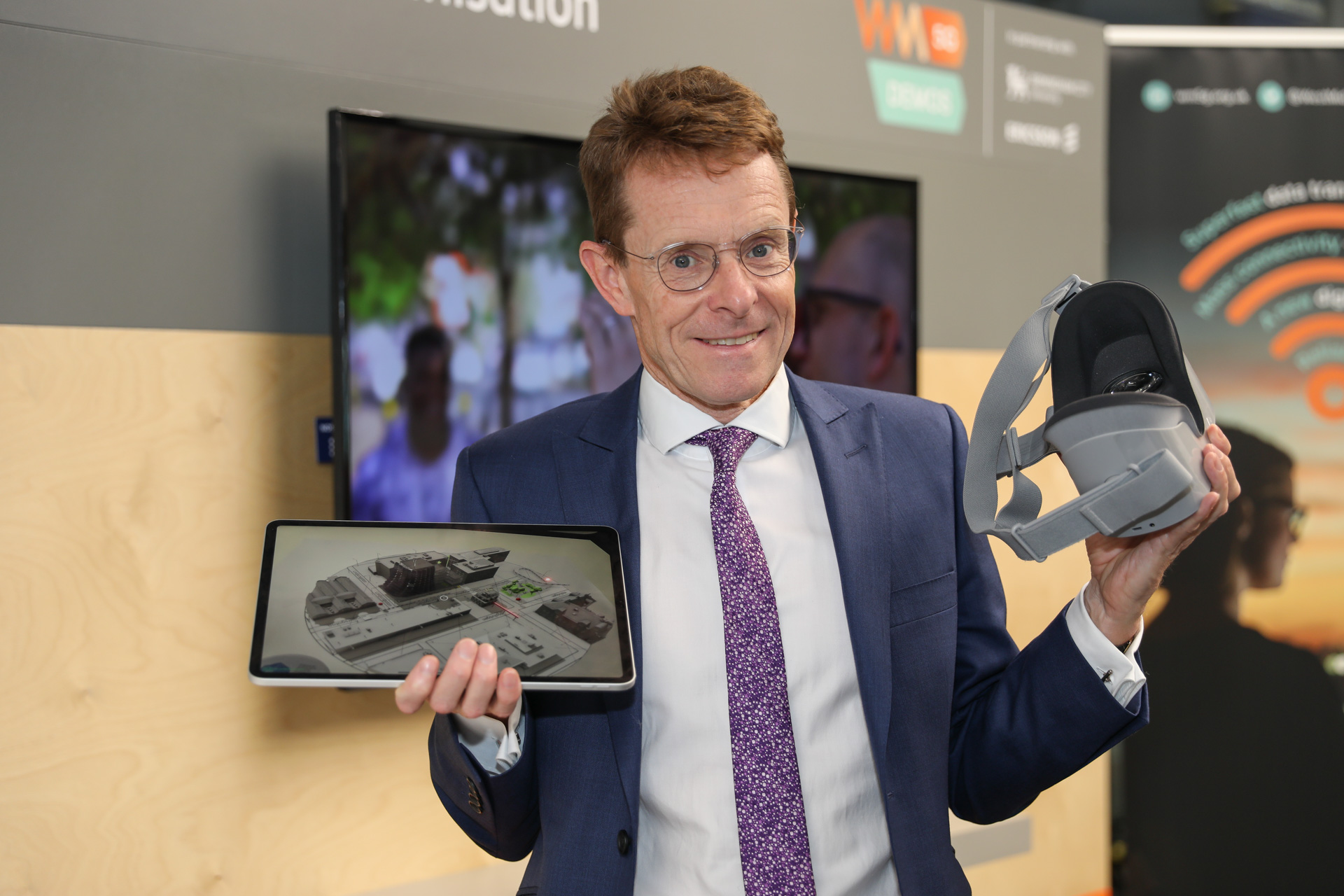 The West Midlands region in the UK has begun to demonstrate use cases for 5G, one year after it was selected by the UK government to become the largest 5G testbed in the country.
The "verticals" that the testbed will focus on include healthcare, mobility and industry as the West Midlands 5G (WM5G) organisation gears up to launch its application accelerator facility next year.
"Today is the evidence that we have got on with it and that it is beginning to happen," Andy Street, Mayor of the West Midlands Combined Authority, told Cities Today in Birmingham. "There are a number of applications where we are ready and waiting to use these."
The testbed is part of the UK government's £50-million connected communities project that will see the regional cities of Birmingham, Coventry and Wolverhampton experiment new opportunities with the technology.
Early use cases include 5G augmented reality, a 360-degree visualisation of proposed developments within a cityscape, cloud-enabled robots for factories, a 5G-enabled homecare assistance system, and a day-to-day life virtual reality experience.
"With the car industry moving to electric and autonomous there is a need for reliable 5G technology for those vehicles to operate. We are beginning to trial that," added Street.
Igor Leprince, Chair of WM5G, said the demonstration day was to show people some examples in preparation for launching the application accelerator next year.
"It is where companies can come and test and experiment and start-ups can start testing development applications that will be launched next year," he said. "We are looking for partners to launch that with us."
Ericsson is one company that has partnered with WM5G. Iain Thornhill, Vice President, Service Providers & IoT, said that the research phase is now over, with the sector well into the commercialisation phase of 5G.
"Success for me, one year from now, is to see many commercial industries up and running with 5G," he said. "We are not developing the product any more, that is done. We are at the point now of how do we help it get adopted across a wide set of use cases."
5G technology arrived to UK consumers earlier this year by two of the country's four mobile network operators. The two other companies are expected to begin rollout of their 5G services by the end of this year.
"We are excited as we are beginning to see the applications that will change people's lives and businesses," added Street. "And create new businesses and make us the cutting edge of this technological application."