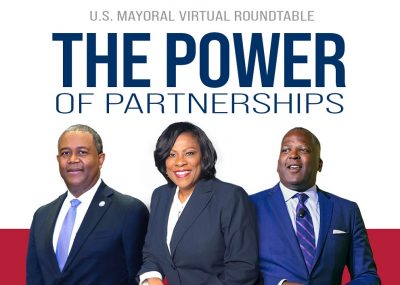 At a recent online roundtable, the mayors of Baton Rouge and Augusta detailed the growing importance of public-private partnerships (PPPs) in their COVID-19 response and recovery effort.
Key takeaways from the event, which was part of a series organised by consulting company Ignite Cities and advocacy group the National League of Cities (NLC), included the need for vision alignment, continuous communication, and openness with citizens.
The mayors highlighted the importance of building the foundations of PPPs early.
In the City of Baton Rouge, Louisiana, the Mayor's Healthy City Initiative, Healthy BR, co-ordinates health service providers, businesses, NGOs and government agencies.
"We have a partnership with all of our private hospitals as a result of that," said Sharon Weston Broome, Mayor-President of Baton Rouge. "So when COVID-19 hit, we went to our private hospitals and with their help, without any help from the federal or state level, we were able to stand up the first drive-through testing site.
"That would not have happened so expeditiously had we not had the public-private relationship."
COVID response
In a follow-up interview with Cities Today, Broome highlighted further examples of PPPs in response to the coronavirus pandemic, including the Keep BR Serving programme, which has worked with over 60 local restaurants to generate more than US$250,000 in gift card sales. When the gift cards are used at participating restaurants, 30 percent of the gift card value is used to pay restaurant workers who are experiencing a loss of wages.
The Restart BR Business Roundtable has also worked with key stakeholders to launch Resilient Restart EBR, a US$1 million microgrant programme for small businesses and microenterprises.
"In East Baton Rouge Parish, we utilise public-private partnerships to leverage opportunities and resources for our residents and our economy," Mayor Broome said.
Programmes that were established before the COVID-19 crisis include participation in eBay's  Retail Revival programme and the launch of the Baton Rouge Procurement Opportunity Partnership (BRPO) to boost the development and growth of small businesses owned by veterans, women and minorities.
"I believe our community will continue to embrace public-private partnerships following the pandemic," Broome commented. "Our coalition-building during the coronavirus pandemic has proven to stakeholders that working together to create community-driven solutions benefits the entirety of our parish."
Partnering for speed
Hardie Davis, Jr. , Mayor of Augusta, Georgia, noted that while local governments often have the capability to deliver services to citizens via apps, etc., partnerships with the private sector can facilitate much more rapid deployment.
COVID-19 has seen employees, including city staff, working remotely or in mobile environments at an unprecedented scale.
Davis commented: "We couldn't do that without having the horsepower of partnership with the Dells, HPs, Googles, AT&Ts and Comcasts of the world and the technology that allows us to still provide the delivery of services to citizens.
"As a city we must be more resilient. It's not prudent to shut down entire departments or offices every time an employee tests positive for the novel coronavirus."
In the health space, which Davis also sees as a key growth area for partnerships, Augusta University rapidly deployed an app to allow COVID-19 virtual screening across the state of Georgia.
"Interactions between the healthcare community and local government were broadened due to the pandemic and must continue to grow and evolve," Davis said.
Rethinking procurement
George Burciaga, Managing Partner, Ignite Cities, said: "The pandemic has accelerated the need for PPP development.  It's critical that our cities adapt and rethink conventional procurement processes."
Public-private partnerships aren't always plain sailing, though, and social value to the city doesn't necessarily align with profit for the private sector. This could become a particularly thorny area as businesses reel from the economic shocks of the pandemic and cities face pressure to address persistent inequities highlighted by the crisis.
Burciaga called for flexibility from all stakeholders. "If we are going to rebuild, now is the time to rethink everything and challenge everyone at the table," he said.
The biggest area for PPP opportunity lies within "areas suffering from disinvestment," according to Mayor Broome. "With the involvement of the private sector, we can address the needs of these communities, and build a stronger foundation for the residents living within these regions."
Davis highlighted opportunities in housing, transportation and recreation, and Burciaga called for an immediate focus on education, broadband and infrastructure to help cities recover and rebuild.
According to Mayor Broome, while working to solve inequities doesn't necessarily produce an initial profit, addressing the issues facing communities like Baton Rouge creates greater opportunities for the future.
An example of this is the New Era Medical Complex, she said.
"Residents in underserved communities like North Baton Rouge face challenges in accessing quality healthcare. My administration has worked with New Era Companies, Ochsner and OCEANS to bring a medical office complex to North Baton Rouge," Broome explained. "This partnership is ending a fifteen-year vacancy by bringing a building back into commerce, creating hundreds of quality jobs within North Baton Rouge, and bringing quality medical care to the region. In the long run, this will not only generate profit for the private sector, but it will address the needs of our community."
Both Broome and Davis were clear that a shared vision alongside citizen engagement are key to making PPPs work.
"We don't want anybody to think that these public-private partnerships are developing a 'shadow government'," said Mayor Broome. "There are people who think when you start talking about public-private partnerships that your goal is to privatise everything [but] that is not the goal."
To combat this, parties should prioritise regular communication with any stakeholders and the public, she said. "This allows all parties to have input on the process, as well as a clear understanding of the ongoing project. Transparency can help set the tone of all future partnerships."
Clarence Anthony, CEO at National League of Cities, urges mayors to be "proactive and creative" when it comes to PPPs.
"Local leaders can help to set the strategy for public-private partnerships and ensure equitable investment," he said. "Economic development directors should work directly with the private sector and in particular small business owners."
Anthony called on mayors to convene bank leaders and financial institutions now to set a vision for investment in the city, including targets for Black, minority and women-owned businesses.