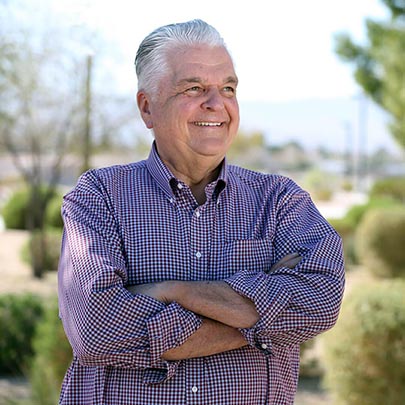 Nevada Innovation Zones plan scaled back
27 April 2021
by Sarah Wray
Nevada Governor Steve Sisolak won't ask lawmakers to approve his controversial proposal to allow technology companies to establish Innovation Zones in this legislative session. Instead, he announced his intention to create a special joint committee to study the idea.
The concept of Innovation Zones was introduced as part of the Governor's Economic Action Plan during the 2021 State of the State address as a way to diversify the state's economy and advance technologies such as blockchain, Internet of Things, robotics, artificial intelligence, renewables and biometrics
A draft bill, which was shared by the Las Vegas Review-Journal and others but not introduced into the legislature, pitched the developments as an "alternative form of local government political subdivision" with powers similar to those of county governments.
Storey County opposed this aspect of the proposals. Others raised concerns about issues such as water provision in an area of scarcity.
Overcoming scepticism
Governor Sisolak said: "I recognise there are limitations that come with a biennial 120-day session – never mind one taking place in the midst of a historic pandemic that requires state officials and legislators to direct their energies to the impact of COVID and the critical response needed."
"Innovation Zones is a bold proposal for our State that deserves additional attention and discussion – and not under the pressure of less than 40 remaining days in the current legislative session," he added. "I know that legislators, stakeholders and Nevadans still have questions, and I want those questions to be discussed and answered. I want people to be enthusiastic about this opportunity, not sceptical about a fast-tracked bill. Nevadans deserve that, and I believe this Special Joint Committee is a perfect solution to explore this economic opportunity."
The draft bill said that to be eligible to create Innovation Zones, applicants would need to demonstrate a track record in advanced technology, own at least 50,000 acres of undeveloped land not within an existing town or city, and agree to invest US$250 million as a start. They would also have to commit to investing a further US$1 billion over ten years.
An independent, three-person board would initially be appointed by the governor but later would be elected by voters.
As the Innovation Zones grow, they would take on responsibility for more local services, including taxes, schools and courts.
The draft bill did not specifically mention Blockchains LLC but the company owns 67,000 acres of land in Northern Nevada where it wants to build a smart city based on blockchain technology.
Alternative proposal
If the proposal to create a committee is approved, they would hold public meetings at least once a month to study the Innovation Zone concept in more detail and submit recommendations to the Legislative Commission and the Governor by the end of the year.
"This plan will allow for additional time to vet this proposal and include critical stakeholders, including tribal leaders, water authorities, environmental groups, labour organisations, economic development authorities, local jurisdictions, and interested tenants," said Majority Leader Cannizzaro. "This alternative proposal allows legislators and Nevadans the ability to fully vet and remain open to economic opportunities that can create high-skilled, high-paying jobs for Nevadans."