When:
15th September 2020 – 17th September 2020
all-day
2020-09-15T00:00:00-04:00
2020-09-18T00:00:00-04:00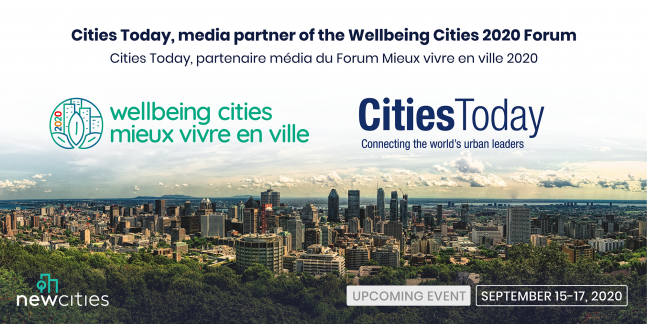 Global Leaders in Urban Wellbeing to gather on September 15-17, 2020.
Speakers include Mayors of Montreal, Buenos Aires, Cape Town, Bordeaux, Philadelphia, Curitiba, Tirana.
UNPRECEDENTED 3-DAY VIRTUAL SUMMIT ON URBAN WELLBEING TO FOCUS ON HEALTHY, EQUITABLE, AND RESILIENT CITIES.
The second edition of the Wellbeing Cities Forum is organized by Montreal-based non-profit NewCities, in collaboration with Novo Nordisk, the City of Montréal, and with the support of the Gouvernement du Québec. Along with panels and keynotes led by experts from around the world, the Wellbeing Cities Award Ceremony is recognizing five laureate cities for their tangible contribution to urban wellbeing on September 15. Finalists below.

WHO
Mayors from around the world, city leaders, corporate executives, and experts from non profits and academia, all committed to advancing urban wellbeing. Speakers include Valérie Plante (Mayor of Montréal), Joan Clos (Former Executive Dir. UN Human Settlements Program), Pierre Humic (Mayor of Bordeaux), Elizabeth M. Mrema (Exec. Sec. Convention on Biological Diversity), Dan Plato (Mayor of Cape Town), Horacio R. Larreta (Mayor of Buenos Aires). Full list.
WHERE
Online: https://events.bizzabo.com/wellbeing-cities-forum-2020/home. Registration required.
WHY
As the world continues to urbanize, and as 2020 has already showcased, cities are increasingly facing challenges of public health, economic development, social inequality, and environmental degradation. We aim to highlight and promote global initiatives to give rise to the wellbeing movement, bringing together all urban players.Our experts and guests will be weighing in on issues such as Civic Engagement, Housing for Health, Climate Migration, Resilience in Cities, Urban Biodiversity, Smart Cities, Equitable Mobility Future, and more.