When:
2018-06-07T00:00:00+01:00
2018-06-08T00:00:00+01:00
Contact:
Desislava Yordanova
+31 (0) 104089865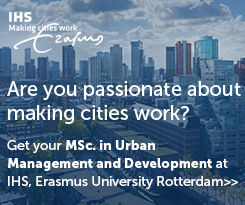 About the programme
Cities face new challenges every day. In order to remain sustainable and competitive, they need progressive urban managers with skills in strategic planning, governance and policy development, economic and financial analysis.
The 12-month MSc in Urban Management and Development (UMD) is a multidisciplinary programme designed to equip you with the skills and knowledge to be a competent urban manager in public, private and not-for-profit organizations. It will prepare you to understand and tackle the social, economic, environmental and physical challenges with which contemporary urban policymakers are faced. As a UMD student, you can tailor your programme to your interests by specializing in one of the six areas.
For more information, please visit this website.