When:
16th April 2018 – 19th April 2018
all-day
2018-04-16T00:00:00+01:00
2018-04-20T00:00:00+01:00
Contact:
Katharina Schüller
+43 1 26 33 444-48
Transport Research Arena 2018
Link: www.traconference.eu

From 16-19th April 2018 Europe's biggest Transport Research Conference, the Transport Research Arena (TRA), will take place in Vienna. Under the motto "A digital era for transport – solutions for society, economy and environment" the TRA 2018 targets scientist, researchers and engineers, as well as companies and stakeholders in the field of transport and mobility. It will be hosted by the Austrian Federal Ministry of Transport, Innovation and Technology together with the Austrian Institute of Technology and AustriaTech as well as the European Commission and the European Technology Platforms on Transport and Mobility.
The TRA 2018 addresses major challenges and opportunities in terms of digitalisations and decarbonisation. It offers for the first time the chance to make the transformation process for research and implementation-related projects tangible to audiences, in addition to discussing it at a theoretical level. Within the Interactive Zone, companies, research facilities and start-ups will be given the opportunity to demonstrate their results, pilot projects and best practices.
more than 3,500 participants from all over Europe, America and Asia
600 poster sessions and 300 presentations out of 1,200 papers presenting latest/ state of the art research results in mobility and transport
About 7,000 m² of exhibition area offers space for industry and research companies
Interactive area with a strong focus on hands-on demonstrations from industry and research institutions
Gala Dinner in the Vienna City Hall
Detailed information can be found on the conference website: www.traconference.eu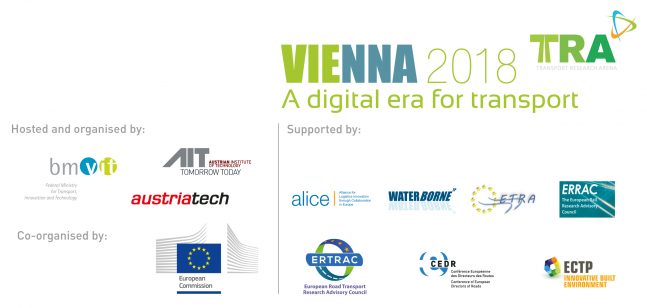 Contact:
AustriaTech – Gesellschaft des Bundes für
technologiepolitische Maßnahmen GmbH
Raimundgasse 1/6, A-1020 Vienna
Katharina Schüller
Head of Communications & Public Affairs
E-Mail: Katharina.Schueller@austriatech.at
Telefon: +43 1 26 33 444-48
Fax: +43 1 26 33 444-10
Website: http://www.austriatech.at