When:
14th November 2017 – 16th November 2017
all-day
2017-11-14T00:00:00+01:00
2017-11-17T00:00:00+01:00
Where:
Fira de Barcelona (Gran Via Venue)
Barcelona
Spain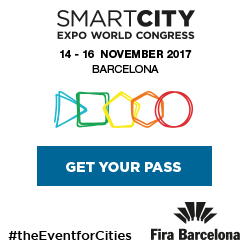 The international summit on smart cities and urban solutions will also host the first Smart Mobility World Congress
Smart City Expo World Congress will focus on citizen empowerment on its biggest edition
Under the theme Empower Cities, Empower Citizens, Smart City Expo World Congress (SCEWC), the leading international event on smart cities will host on 2017 its biggest edition to date. From November 14 to 16, Fira de Barcelona's Gran Via venue will gather 700 cities worldwide as well as 600 exhibitors and 420 speakers. The event will focus on the strategies to empower metropolises and their citizens through active participation, critical reflection, awareness and access and control over important decisions and resources. 
During these recent years, the concept of smart cities has been widespread across the globe raising awareness about the need to transform cities and through them the world. Many have agreed that digital technologies and more precisely ICT and IoT are the backbone of the cities of the future and that without them urban transformation would be impossible. But SCEWC will focus on the underlying truth within metropolises: they are run and inhabited by people and these citizens are more so the future of cities.
Six months before the event, SCEWC has already booked 92% of its floorspace, exceeding last year's figures by 20%. The 600 companies exhibiting at the 2017 edition -among which are Deutsche Telekom, Engie, Huawei, Mastercard, Microsoft, Siemens, Suez and ZTE- will cover more than 15,000 net square metres. Cities and countries will also showcase their projects and initiatives and in the list of confirmed exhibitors are Denmark, Dubai, Sweden, Germany, Finland, Holland, Israel, London, New York, Norway, Quebec, Spain and the United States.
The event will also feature the first Smart Mobility World Congress, a summit resulting from the merge of BcnRail, international railway industry show and the SCEWC's own mobility track. The new event will focus on smart transport and on both urban and intercity mobility.
More info: www.smartcityexpo.com