When:
9th July 2018 – 12th July 2018
all-day
2018-07-09T00:00:00+01:00
2018-07-13T00:00:00+01:00
Where:
Sands Expo and Convention Centre
10 Bayfront Avenue
Singapore 018956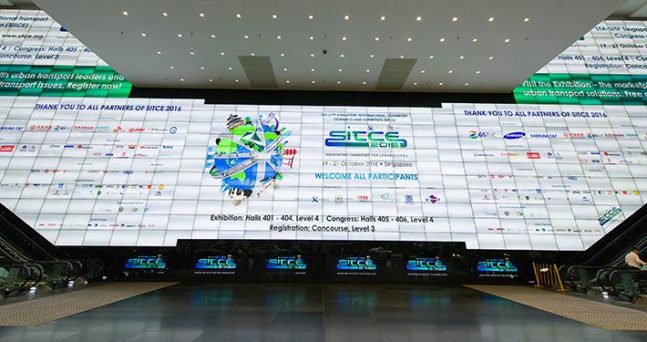 SITCE 2018: "PEOPLE AT THE HEART OF DIGITAL RAILWAYS"
The third edition of the LTA-UITP International Transport Congress and Exhibition will return this year focusing on rail (Singapore, 9-11 July) – with the 2018 UITP International Rail Conference integrating with SITCE for the first time.
SITCE 2018 will focus on how digital technologies will transform the rail transport landscape and the need to bring innovative solutions to a people-centric transportation system in order to improve commuters' experience.
Themed 'People at the heart of digital railways', the event will host a congress, exhibition, technical tours and various networking sessions.
People refers to customers, but also to staff and talents, to governments and decision-makers and finally to local communities served by the system. Hence the conference theme "People at the heart of digital railways".
Digital technologies are already here and have the potential to deliver a revolutionary impact on rail transportation as it has been known for decades. Digitalisation, big data and Internet of Things will transform engineering and construction, operations and maintenance, business culture, organisation and management.
SITCE will host a 3-day congress and exhibition, running parallel to the World Cities Summit, offering in-depth dialogues, exchange of ideas and networking opportunities with authorities, policy-makers, urban planners, transport operators as well as solution providers. It will provide you a platform to forge partnerships and exchange knowledge with industry players.
The last edition of SITCE in 2016 featured more than 3,200 trade visitors from 38 countries with almost 140 speakers from 27 countries. Research found that 98% of the visitors would definitely visit SITCE again – making the 2018 edition one not to be missed.
This exciting event will allow the transportation community from all over the world to share knowledge, learn more about the latest technologies and establish new and influential contacts.
To find out more about SITCE 2018 – including news on speakers and the programme as it develops – please visit the dedicated website