When:
17th March 2021 – 18th March 2021
all-day
2021-03-17T00:00:00+00:00
2021-03-19T00:00:00+00:00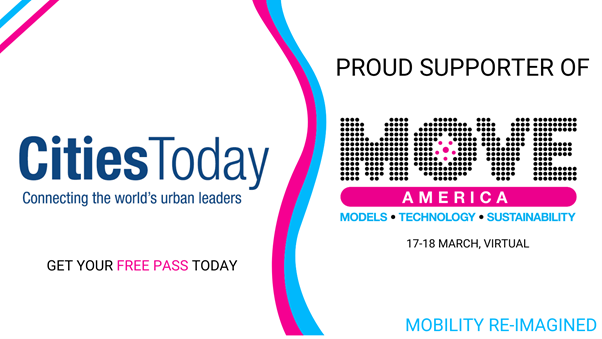 Cities Today is proud to be supporting and attending MOVE America Virtual in March.
MOVE America is a free virtual event bringing together the people and companies redefining the transport tech industry in the US.
With 18 themes over 2 days, MOVE America invites OEMs, transport operators, tech companies, energy giants, fleets, fast growing startups and policymakers to stay ahead of the latest developments in the future of sustainable transport.
Register for free here: http://bit.ly/CitiesTodayRegister
Conference themes:
Auto Futures – Truck Tech – Smart Infrastructure – Autonomous Vehicles – Connectivity – MaaS & Business Models – Micro-mobility & Ability – Metro Rail – Energy & Charging – Tech, Data & Innovation – Smart Cities – Smart Traffic – Mapping, Data & GIS – Ticketing, Revenue – Bus Transport – City Freight – AIR – Battery Tech
Here are some of the leaders speaking live:
Sarah Wray, Editor, Cities Today
Dane Davis, Chief Technology Officer, Nikola Motor Company
Mark Kaufman, Global Director, Electrification, Ford Motor Company
Olabisi Boyle, VP, Product Planning & Mobility Strategy, Hyundai Motor North America
Tracey Zhen, President, Zipcar
Mallory McMorrow, Senator, State of Michigan
Sam Zaid, Founder & CEO, Getaround
Patricia Monahan, Commissioner, California Energy Commission
Chris Stoddart, President, New Flyer
Jim Adler, Founding MD & Board Member, Toyota AI Ventures
Vijaysai Patnaik, Head of Product, Self-Driving Trucks, Waymo
Karina Ricks, Director, Mobility & Infrastructure, City of Pittsburgh
Nina Grooms-Lee, Chief Product Officer, May Mobility