When:
4th December 2017 – 8th December 2017
all-day
2017-12-04T00:00:00+00:00
2017-12-09T00:00:00+00:00
Where:
Abu Dhabi - United Arab Emirates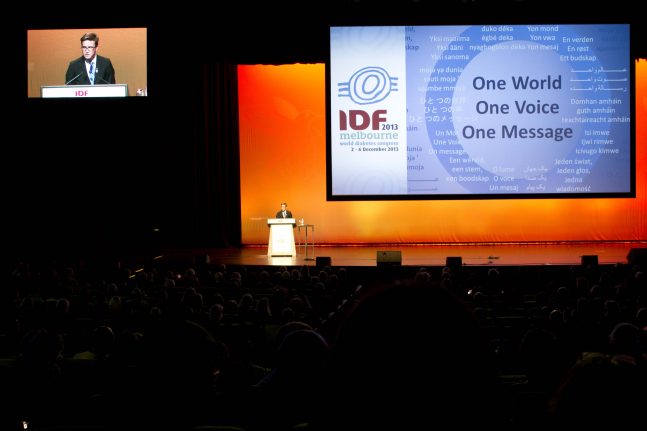 The International Diabetes Federation (IDF) organises a biennial congress which is the largest global diabetes event. This year IDF is holding the congress in Abu Dhabi, United Arab Emirates, from 4 to 8 December.
Diabetes is one of the fastest growing health concerns that today's society faces and it affects people from all cultures across the globe. Increasing development and urbanisation correlates with an increase in diabetes prevalence. If current trends continue, by 2035 one in ten people will have diabetes with the majority of these cases being type 2 diabetes.
Type 2 diabetes can be prevented with a healthy lifestyle. Increasing the consumption of healthy unprocessed foods and decreasing the consumption of unhealthy processed foods is a major factor in preventing the condition, as well as increasing physical activity. Urbanisation is linked to an increase in access to processed food and a decrease in physical activity. With the proportion of people living in urban areas set to increase dramatically over the next 20 years, it is essential to make cities more conducive to healthy lifestyle choices.
The IDF Congress is unique because of its broad focus, not only towards the healthcare professional but also towards policy-makers, government officials and people involved in health issues facing today's urban societies.
The programme will have sessions that fall under the Diabetes in Society and Culture stream. These will deal with the role of society in diabetes prevention and how the lifestyle is influenced by environment as well as how environments can be changed to promote healthy lifestyles. Find out more at the IDF 2017 Congress.
Register today and benefit from exceptionally low early rates!
We are looking forward to welcoming you at the IDF Congress in Abu Dhabi from 4 to 8 December 2017.