When:
2nd May 2019 – 3rd May 2019
all-day
2019-05-02T00:00:00+01:00
2019-05-04T00:00:00+01:00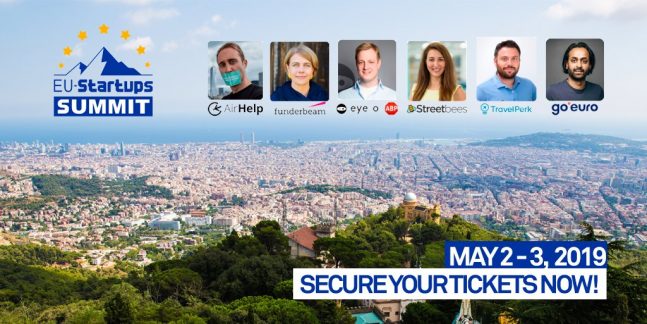 On 2-3 May, the EU-Startups Summit will take place in sunny Barcelona! At the annual flagship event of EU-Startups.com, there will be a selection of Europe's hottest start-ups that will come together to learn from some of the most successful European entrepreneurs of our time.
The EU-Startups Summit 2019 will bring together over 1,200 founders, startup enthusiasts, corporates, angel investors, VCs, as well as media people from all across Europe. The two-day event is a great opportunity for networking and a meeting point for aspiring entrepreneurs and investors who are aiming to build international tech companies.
There will be inspiring speakers like GoEuro CEO Naren Shaam, AirHelp CEO Henrik Zillmer, Funderbeam CEO Kaidi Ruusalepp (…and many more!), great networking opportunities, an "Investors on Stage" session, a workshop stage, but most importantly: An exciting Pitch Competition with 15 of Europe's most promising early-stage startups!
The event will also gather hundreds of Europe's leading Venture Capital investors, business angels and accelerators. As a startup, you can directly engage with them, as there is one of the best startup-investor ratios of any startup event out there.
The EU-Startups Summit is an ideal event for those looking for three main things. Inspiration, as some of the most successful startup founders in Europe will share their experience. Learning, as there will be an entire stage with prestigious speakers focused on developing knowledge. Networking, as the event will gather some of the most relevant startup founders, investors and innovative corporates from across Europe.