When:
7th October 2020 – 28th October 2020
all-day
2020-10-07T00:00:00+01:00
2020-10-29T00:00:00+00:00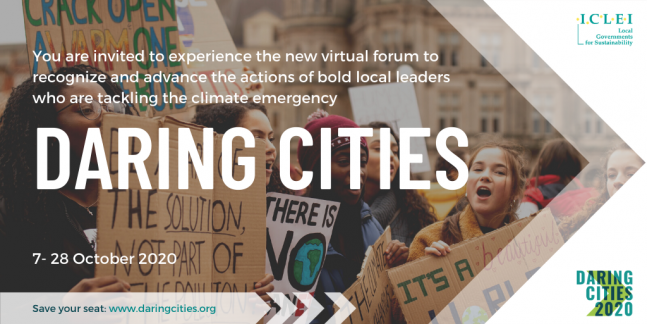 How can urban leaders tackle the climate emergency in times of COVID-19? Daring Cities 2020 will help them find it
While the COVID-19 pandemic is hitting humanity, the climate emergency around the globe continues to grow rapidly. The crisis impacts our cities, towns and regions and science clearly shows we have until 2030 to limit a climate change catastrophe. Alongside COVID-19 crisis national and international leaders are struggling to tackle climate and biodiversity emergencies, but local leaders are mobilizing to address this urgency.
To help accelerate and scale up environmental action, ICLEI is organizing Daring Cities 2020 – the world's first and largest online gathering on climate change for urban leaders. This virtual, action-oriented forum is co-designed by ICLEI and the City of Bonn and will take place between 7-28 October 2020.
Thousands of urban thought-leaders and changemakers will gather for three weeks – virtually – to strategise, learn and commit together to respond to the climate emergency in the context of the COVID-19 pandemic.
"As Mayors, we witness the impacts of climate change in our own cities. We local governments are determined to answer the call of emergency, to be the ones daring to take the lead on climate action," said Ashok Sridharan, Bonn Mayor and ICLEI President.
During Daring Cities 2020 mayors and leaders from local governments around the world will be weighing in on issues such as resilience, mitigation and climate action to provide a cohesive, integrated response to the current climate crisis, in the context of the COVID-19 pandemic. The virtual event will also connect and recognise Daring Cities – cities or regions that have made and implemented bold commitments to climate action or have embedded climate action into the heart of their COVID-19 recovery plan and efforts.