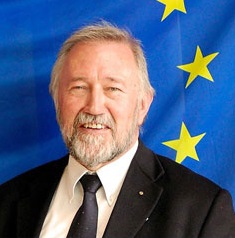 The outcome of the Doha COP 18 talks at the end of 2012 proved that the world is still a long way off a global agreement on climate change. The world's leaders said they would come to an agreement at a later date (2015), and extended the Kyoto Protocol until 2020. While everyone waits for a global resolution, the EU is demanding to slash EU emissions by 80 percent by 2050, and a 60 percent cut in transport emissions.
Manfred Neun, President of the European Cyclists' Federation, talked to Cities Today on how cycling can provide solutions to tackle climate change that can be implemented now.
"If there's one message I'd like to leave with politicians this year, it's that cycling is a powerful tool that provides solutions now," said Neun. "Not tomorrow, not in 20 years time, but now. When it comes to solutions to climate change, cycling excels."
While emissions in other sectors decreased between 1990 and 2007, the transport sector saw its emissions increase by 36 percent in the same period, accounting for around one quarter of all EU emissions. Neun said that while meeting the EU global reduction target is a real challenge, meeting the transport target is an even bigger one.
"What governments need to understand is that cycling can be an influential tool in cleaning up the transport sector," explained Neun. "It's cost efficient, relatively cheap and easy to implement, and best of all it has solutions that exist today. If every person in the EU cycled as much as the Danes–an average of 2.6 kilometres a day–it would help the EU meet more than a quarter of the targeted emission reductions for the transport sector."
Cycling is without doubt growing. Europe's most populous nation, Germany, now sees almost 15 percent of all trips taken by bicycle, an increase of more than 60 percent in 10 years. Other countries are seeing similar increases. Cycling advocacy is having success in cities, regional and national authorities; but many argue decisions makers are not paying enough attention to this issue.
"I'm calling on European Commissioners like Connie Hedegaard, European Commissioner on Climate Change, and Siim Kallas, European Transport Commissioner, to make use of cycling as a tool, to ensure it is included in strategic documents, and to invest resources," said Neun. "People will not cycle if they do not feel safe and to feel safe they need adequate infrastructure."