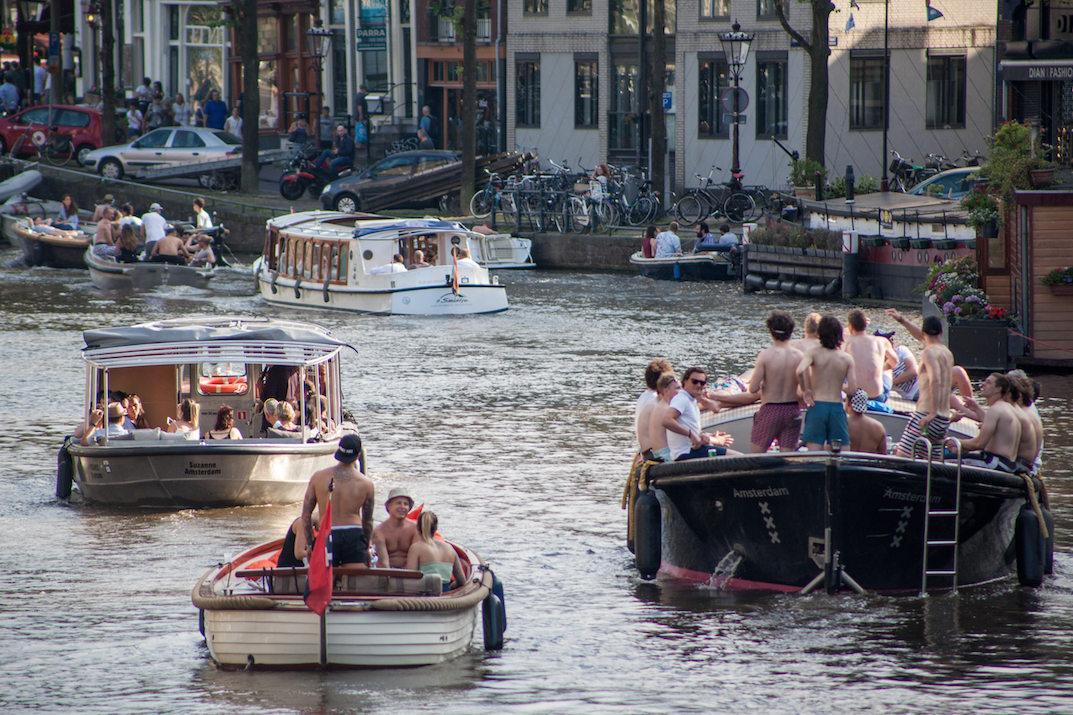 Global Guide Systems
Global Guide Systems utilises smart technology to provide Amsterdam's residents with traffic flow information concerning the city's canals. The service offers a solution to the ever-increasing level of traffic on the canals. It uses data available in the form of signals transmitted by all commercial boats. This is combined with previously existing sensor infrastructure from the city's water company Waternet in order to provide real-time updates of commercial boat locations, so boat users can plan their canal journeys.
The start-up has set up an online dashboard which allows users to report and analyse data themselves. Although predominantly used for canals, the dashboard has the potential to be used for wider traffic flow information in cities. Aside from traffic flow control, the company has developed a fleet management solutions device, which monitors electrical systems on boats, such as battery status, position and engine status. Alarms can be set to alert users of any malfunctions or potential issues with technology on the boat. Global Guide Systems sees itself as part of the movement towards an increasingly connected city, by bringing data which is already available into the public domain to provide a service to society.
Wander
Wander is a project which aims to help people gain a more authentic experience of a city. The start-up offers navigation to specific places within a city, while sending users off the beaten path. Wander Technologies says it wants to free individuals from digital distractions and allow users to experience a city with their full attention rather than while glued to a device. Their first product is a smart compass which takes users away from conventional routes, pointing them in the direction of their destination and showing the distance remaining.
An online app also allows users to unlock hidden gems in a city. The app contains a smart radar which gives city-goers the freedom to deviate from their route without getting lost. As well as benefiting visitors looking for a more authentic experience of a tourist-heavy city, the start-up also creates an improved experience for city natives. By encouraging users to deviate from mainstream tourist traps, Wander generates a more natural spread of tourists and leads to fewer areas of high tourist density.
Transformcity
Transformcity offers an online platform and toolkit for collaborative urban development which brings together local stakeholders and city government to achieve development goals and work together on local projects.
As a collaborative tool, the start-up wants to encourage self-organisation of local communities, helping drive their development goals in concert with city government. The company's first pilot was a success, transforming the struggling Amstel3 office district into a mixed-use urban neighbourhood. The first phase of the platform was rolled out in April 2018, and a training package for cities has been developed alongside the online platform to help cities collaborate with each other more and optimise their workflow. TransformCity has garnered global interest and is in preparation to work with Start-up in Residence and scale to other cities both nationally and internationally.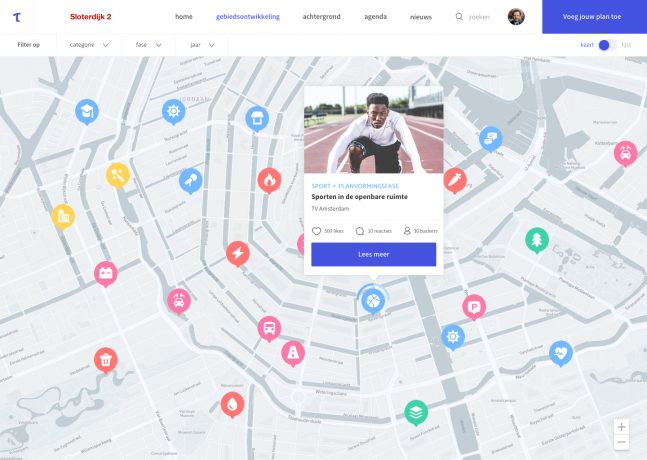 WASTED
WASTED encourages household waste separation by providing incentives to individuals based on the generation of currency valued on waste. Each bag of separated waste is converted into digital currency which provide discounts for citizens at partner stores and businesses. Once subscribed to the WASTED website, the company provides citizens with a 'Start-up Kit' including 12 rubbish bags and an information pack detailing advice about waste separation. Users are asked to upload a picture of their rubbish bags via a QR code placed on local recycling containers. They then receive digital coins which can be redeemed for items and gifts at stores in the Amsterdam Noord area.
WASTED was founded by Francesca Miazzo, Sietse Gronheid and Elisha Weeber as an autonomous start-up under CITIES Foundation, an Amsterdam-based organisation that seeks to find solutions to global urban problems through research and community engagement. Since 2015 the company has been working with the Dutch government to pilot an education package, to teach school children and adults about plastic waste and the importance of reusing waste. Operating in Amsterdam Noord, the neighbourhood is seen as a vision for societal movement towards greater sustainability Y and environmental awareness. Collaboration with the Municipality of Amsterdam is now underway to expand the project firstly to the whole of Amsterdam Noord, and then to the wider city and beyond.
KOPPL
KOPPL helps people obtain easy access to care and support. The service is aimed at citizens dealing with care, loneliness or poverty, and allows them to find help from the right organisation in their local area. The start-up has developed software to connect supply and demand in social services, and while being available on mobile phones, is also present on the streets of Amsterdam via KOPPL Kiosks.
The service was borne out of the cofounders' own experience with informal care, and the difficulty in finding the right support among the plethora of aid available. As such KOPPL provides an insight into the almost overwhelming range of support available, connecting citizens with the specific services and organisations which suit their requirements and location. Once a resident has identified the organisation they want help from, the organisation will be the one to get in touch with the individual. The Start-up in Residence company currently operates in Amsterdam Centre.