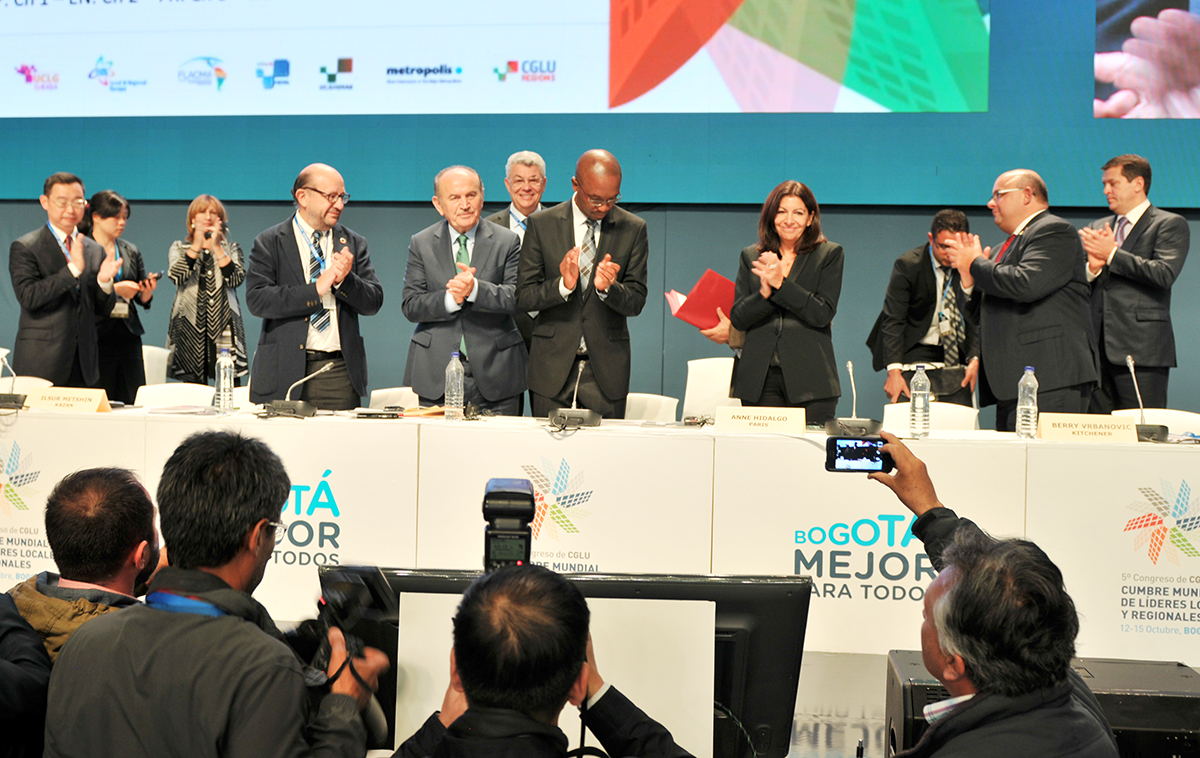 The election process that led to the former mayor of Johannesburg, Mpho Parks Tau, becoming UCLG President has aroused scathing criticism from the Asia-Pacific section of the global city and local government association.
Parks Tau won the election, held in Bogota, Colombia on 15 October during the United Cities and Local Governments' Congress, beating the only other nominee, Ilsur Metshin, Mayor of Kazan, Russia.
According to Peter Woods, Emeritus Mayor and Ambassador for UCLG ASPAC, the Asia-Pacific section of UCLG, many delegates from his region were denied a vote through misinterpretation of the rules relating to eligibility.
"The rules state that the primary voter must hold a political mandate from a local government and a substitute for the primary voter should hold a political mandate. Full stop," Woods told Cities Today.
He explained that at a meeting of UCLG's Executive Bureau held in Chicago in 2010, the then president had ruled that substitutes holding a political mandate from their cities or associations could vote.
"This was ignored and such substitutes were denied a vote," he said. "Members are outraged and there will be far reaching consequences of this unless it is rectified."
Woods' criticisms did not stop there as he highlighted the poor treatment of the Mayor of Kazan, in particular from the European section that had boycotted an Executive Bureau meeting held in May in Kazan. He said it was "disgraceful behaviour" intended to undermine an important meeting.
Frédéric Vallier, Secretary General of the Council of European Municipalities and Regions (CEMR)–the European section of UCLG–however, said that the Policy Committee decided not to send any elected representatives following a vote because of the Russian Federation's intervention in Ukraine.
"CEMR members made the decision to apply the rules of the Council of Europe concerning their participation in meetings in the Russian Federation," Vallier explained.
He added that instead of elected representatives attending, the Policy Committee decided to send the Secretary General accompanied by a technical delegation made up of experts.
"CEMR's decisions are always democratic," he added. "The debate was held because members asked for it and the decision to not participate was made by vote and almost unanimously by members of the Policy Committee."
Woods however sees it as an anti-Russian agenda pushed by "disloyal and arrogant people, which has no place in a world local government organisation".
The World Secretariat of UCLG had no comment when approached by Cities Today saying that it "can only inform that the UCLG electoral process was defined according to statutory rules and all members had the opportunity to provide their inputs to the process in Bogota."
Despite the fallout, all sections will work closely with the new president.
Vallier said: "The congress showed that UCLG has become an adult organisation that can conduct political debates in a democratic manner."
Woods also supports the new president's election but concluded, "the successful candidate is to be congratulated but the devious and undemocratic behaviour of others is to be deplored."